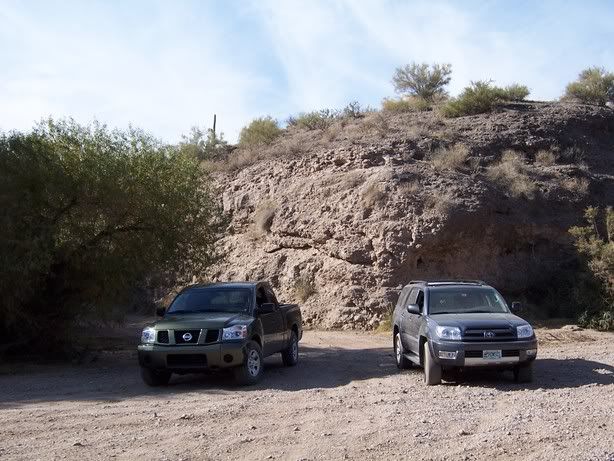 Mike and Mich took off for the day for a run through the desert today. It was something he'd been dying to do since we got here, and he wasn't disappointed. In fact, I think the comment he made was "It's worth living in Arizona just to be able to do that." They were gone for several hours, traveling over dirt roads and old washes. They had a really good time, so much so that I was willing to forgive the new scratches on my 4Runner.
I talked to the leader of a local homeschool group while he was gone, and the boys and I are looking forward to joining. I have to fill out and sign a waiver to be "official", something that wasn't necessary for our little meet-in-the-gym-once-a-week group in NH. One of the big upsides to joining a larger group? Diversity; in homeschooling styles, culture, and religion, to name just a few. Diversity is good. Getting involved in the group will be good for them too, although they've been more than happy at home. Today they made Christmas cards, played with their legos, read some more of their castle book, and played several rounds of GT4. This was all in between their usual venture outside, for bike riding, bug hunting, and mail gathering.
Tonight we decided it was time to try out the local pizza places, and got take-out from a place just around the corner. The pizza was good, and the proximity couldn't be beat.
I still feel like a tourist, walking around with my mouth hanging open.