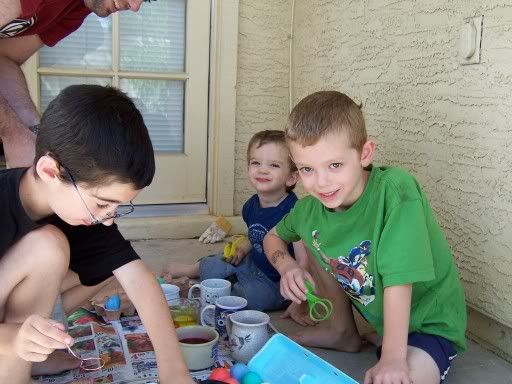 We've had our first Thanksgiving, Christmas, New Years.... and now Easter, in Arizona. The first time is always strange because while some traditions can stay the same, so very much is different. We had a nice Easter; a quiet Easter. We colored eggs with the boys on Saturday, and they woke us up before the crack of dawn Easter morning. Actually, Spencer woke us up, by bursting into our room and shouting. I don't really remember what he said, but it was happy, and it was loud.
After they hunted for eggs, ate some chocolate, and tried out their new Playstation controllers, we got ready for church. I was in the shower when Mike decided to cut Everett's hair. He claims I asked him to, but I maintain that I just made a general comment that it needed to be done soon. He apparently lost his mind for a moment, because when I came down he was cutting his hair with the clippers, with the SHORTEST attachment. All I could see when I came around the corner was Everett's grinning at me while his pale white scalp peeked through the 1/100000 of an inch of hair left on his head. We had a family picture scheduled for next weekend (which is now rescheduled) but I couldn't stay mad long. Mike felt horrible, and it was too funny to be upset about anyway.

We finally headed to church, and for a church with 6000 members, it's really amazing how homey and welcoming it is. The boys' friend wasn't there, so they decided against going to childrens' services. They sat with us during the adult services, and we watched an Easter presentation about the birth, crucifixion, and resurrection of Jesus. We squeaked out a little bit early to make it to our brunch at a nearby Mexican restaurant. The food was outstanding, and the kids enjoyed it until Paxton took a bite of something a little too spicy and complained of his lip burning for the rest of our stay :-(

In the afternoon, we had a video chat with Maba and Pop, then snuggled up on the couch to watch movies.

Happy Easter everyone, from hot & sunny Arizona.