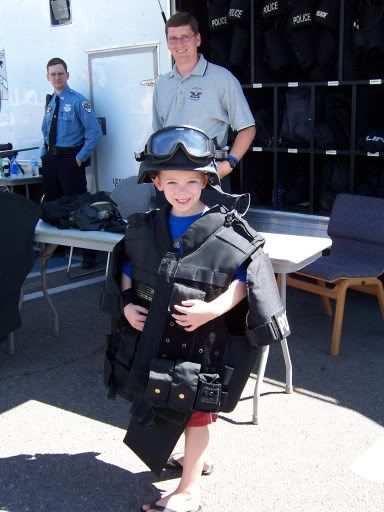 Happy Spring! I read the other day that our 100+ degree days are going to be starting in another month, so in the meantime we are very much enjoying the warm, beautiful outdoors. Saturday, we all went to an open house at the local police station. There was a car show, a SWAT team display, a house set up to fill with smoke to teach kids about fire safety, motorcycles, and lots of little freebies. Paxton and I went a tour of the police station and it was fascinating. We saw just about everything there was to see, from where they finger print and do mug shots, to holding cells and shooting ranges and dispatch rooms.

Monday we got an Easter package from Yaya, and the boys spent all afternoon playing with the goodies inside. Their favorite? Plastic eggs. Those things amaze me. Such a simple concept = hours of enjoyment. They filled them and hid them again and again.

This morning we did something I've been wanting to do for weeks now. A new friend, also a homeschooler, invited us to attend her church with her. They have a Wednesday morning ladies' tea. It was WONDERFUL! The lesson was one I was particularly needing to hear, and I had such an overwhelming sense of being exactly where I needed to be, exactly when I needed to be there. Everett sat through the class with me (and enjoyed sampling all the food) while the older boys had a blast playing in the kids' room. It was the first church that just "clicked" with all of us, and we can't wait to go back.

In other good news, Mike was officially offered a permanent, full-time position today! The boys were so excited when I explained what it meant, that they wanted to throw him a party. So we shopped for a party indeed... complete with balloons, Chicken Little plates, and an icecream cake from Cold Stone.