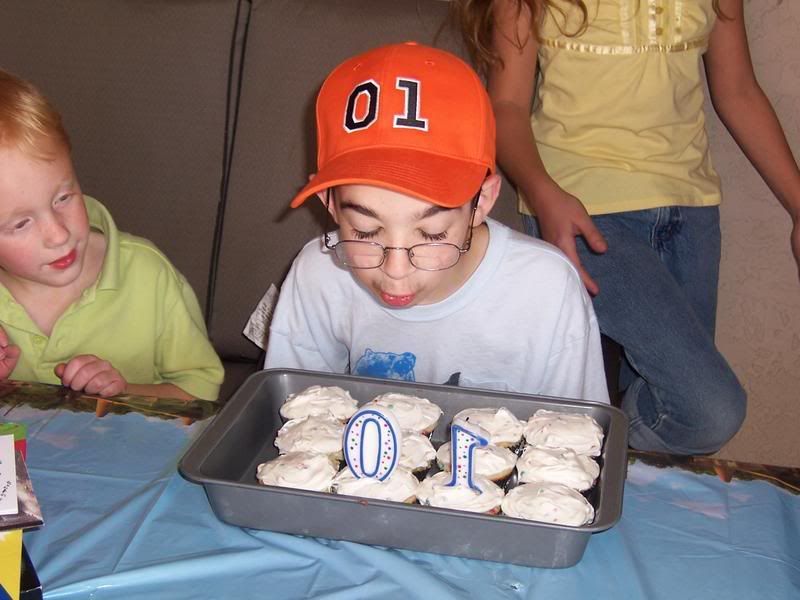 Spencer's 10th birthday party was yesterday, and the whole thing went off without a hitch! Spencer was beside himself with excitement for the past several weeks, and he wasn't disappointed.
It was a gorgeous day for a party, and the weather made us thankful - again - that we live in Arizona, where even the February birthday parties can be outside.
There were 12 kids all together, both old friends and new. They started out by jumping (and sliding, and climbing and wrestling and laughing) in the bouncy house, stopping only long enough to re-hydrate and rest their legs. The house started to tip a couple of times when things got a bit wild, but it only proved to make everyone laugh, pile out to re-group, and start jumping again. Spencer gave them all tours of our new house, and was proud to show off his room, his toys, and his remote control vehicles. He was a wonderful and gracious host, making sure he paid attention to everyone.
He got a lot of neat gifts, and was genuinely surprised that we'd actually gotten him something that he hadn't known about. The present-opening gave me one of my proudest moments of the day, when one of the other mothers commented on how attentive and appreciative he was as he opened them... asking who they were from, reading all the cards... instead of a flurry of ripping and setting aside.
Several of the kids tried out Spencer's new playstation game, they met the rats, they snacked as they wandered in and out of the house.
Spencer chose cupcakes instead of cake, which gave us the chance to make two kinds - confetti for the kids, and good old yellow with chocolate frosting for anyone who wanted something a little less sweet. The candles kept blowing out, and prompted a second chorus of "Happy Birthday" so they could be re-lit.
We did the pinata at the end, and Mike and I agreed that it was the best pinata experience we've ever had. It broke open in increments, raining small bits of candy each time, so everyone had a chance to both hit and to get plenty of candy. The boys' friend Clayton was the last one up to bat, and predictably creamed it, splitting it completely open, and littering the patio with candies. The kids scrambled to fill up their treat bags, and a few of the boys continued to hit the pinata, even as it lay on the ground, just for fun.
Everyone stayed around 3 hours, and Sandi, Mitch and the kids stayed later to join us for some grilled burgers for dinner. Everett and Anabelle were finally able to get some uninterupted jumping time in the bouncy house, after being a little freaked out by the high activity of the older kids. It was a good day, a fun day, a tiring day. Spencer went to sleep with a smile on his face, and for a special treat camped out on the living room floor with Daddy.