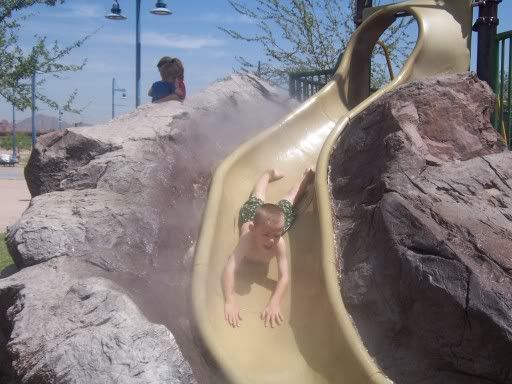 The heat is upon us. The boys and I have been gradually shifting our days to more time spent indoors, in the shade, and cooling off. Friday we went to a local splash park with the homeschool group. It was geared towards very young kids, with little slides, waterfalls, faucets, squirting things, misters, and sand. It was a great way to spend the afternoon. They all ran around for awhile, and ended up setting up camp in the sand box, where they left only to fetch more water for their sand castles. Everett liked sitting in the trough of running water, and I stood there with him so long that I got a scorching sunburn on the back of my neck.
Saturday was errands, and Sunday was my 10th Mother's Day as a mom. Spencer woke me up bright and early at 6, to tell me Happy Mother's Day, and to double-check his spelling on the card he was making for me :) Then they all surprised me with a trip to the movies to see Ice Age 2, followed by IHOP for lunch.
This week is all about hanging out... Hanging out, playing, and waiting for some news that should be arriving tomorrow.