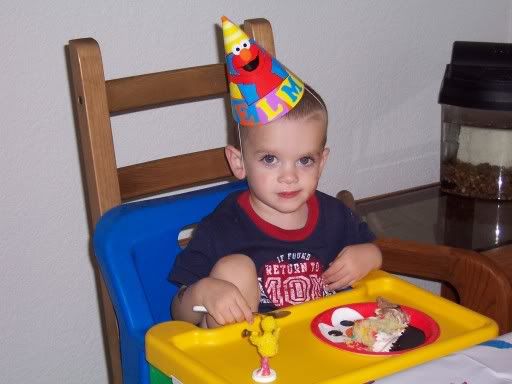 Everett turns two today! And while it seems I say this for every boy and every birthday, it

really

doesn't seem possible that my 6 pound little munchkin is really two: An official, full-fledged, no-holds-barred toddler.

He was lucky enough to get a 3 day celebration this year. Daddy had Friday off, and after a trip to the party store for Elmo balloons & the grocery store for sandwich fixings, we spent the day playing together. Saturday was his party, and the vast majority of it was spent out in the sunshine... watching the kids ride bikes, swimming in the pool, playing with new toys in the driveway. It was a fun, relaxing, and happy day. Sunday was part two of the party... another long lazy day outside, and when the heat got to be too much, an afternoon at the library.

The past two years have gone quickly to be sure. They've been full of new places, new things, and exciting changes. And the best part of all has been watching this little boy grow. At two, he is sweet and energetic and happy and strong and so very entertaining. He has a big heart in that tiny body.

Happy birthday Everett!!! We love you more than you'll ever know.