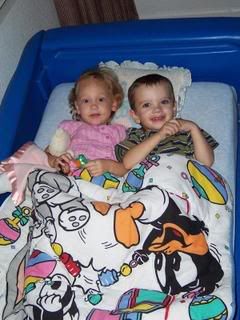 And so it goes...
Last Wednesday night, we got a call from Sandi that Isaac was in the hospital, and could we come. Mitch was back east on business, so she was alone with both Isaac and Anabelle in the hospital. He is ok now (and home), after lots and lots of tests, although they're still figuring out what's going on. But that night he had to spend the night, so we all went to the hospital to lend some help and some moral support. Mike and Spencer went to her house to take care of the pets and pick up some necessities, while me and the kids stayed at the hospital and played in the playroom with Isaac and Anabelle. It was a great playroom, and a great pediatric floor for that matter. The kids actually had a blast, and were very patient about the fact that we were there well past 10 PM. We brought Anabelle home with us to spend the night, so she wouldn't have to stay at the hospital, and the boys treated her like a princess... making sure she was happy and comfortable and had everything she needed. It was a very late night and a very early morning. A couple of crazy days. Thankfully everyone is happy and safe and home now.
We were going to go the first homeschool group party of the season on Friday, but decided to rest instead. Rest and pack up for our first official working weekend at the house. We got there Friday night, and started working first thing in the morning. The boys completely rose to the challenge, and worked as hard as I've ever seen them work. They both commented - more than once - how much fun it was, and how glad they were that we were doing it.
I started a whole new blog, just for house updates, and you can view it here
Our Flip Files
Sunday night, after we got home, we went to the grocery store for our poor empty kitchen. I saw someone, an older gentlemen, watching me and Spencer talking as I picked the coffee. I'm not even sure what we were talking about, but I know he said something sweet and then I hugged him. The man came up to me in the next aisle and said "You have a wonderful, well-behaved boy there. What a nice boy."
Random compliments feel good.