We just returned from our first-ever Live and Learn Conference in Albuquerque NM, and it was a RAGING success. We went with no expectations other than to soak it all in, and enjoy being around other unschoolers. We got that, and so very much more. The boys truly had the time of their lives.
It was amazing to be around so many other unschoolers (over 500!)... people who truly "get it." I've never been around a collected group of adults who treated my kids with such patience, kindness, and respect. I've never been around a collected group of kids who treated each OTHER with such patience, kindness, and respect. Kids of all ages working and playing together, helping each other, supporting each other. Teenagers stopping what they were doing to sit on the floor and give their attention to littler kids. Kids and adults alike gathered into inprompto cirlces of card games, hacky sacks, or guitar playing. It sounds corny to say it, but I honestly don't think I've ever been amongst a group of such peaceful, joy-filled people.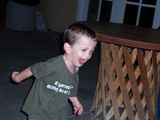 We headed out bright and early on Wednesday morning. The 8 hour ride went smoothly and relatively quickly, thanks in part to my laptop and a stack of DVDs. We made many bathroom stops, especially towards the end, and Paxton experienced a variety of ailments.... ranging from chapped lips to donut crumbs in his underwear. Still, we were all in good spirits when we got there, and excited to check into the hotel. We decided to skip the opening ice cream social, since it was nearly over once we arrived, and pretty much just crashed in our room after dinner. It rained at some point, and the kids excitedly pointed out a rainbow before we called it a night.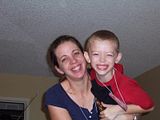 The conference officially started on Thursday, and the kids jumped in with both feet. Mike took all three boys to the Building Toys Funshop, where they played with all kinds of building toys from blocks and legos and tinker toys, to new ones we've never seen before. I was able to catch a couple of discussions while they were playing. The first was Sandra Dodd's Big Noisy Peace, about finding peace and calm in your household (and in your heart) amongst the noise and hustle and bustle that comes with unschooling. I also listened to Diana Jenner, an inspiring mom and unschooler who lost both her husband and beautiful little girl to cancer, and faces the world with grace, gratitude, and humor. After I caught up with Mike and the kids (and hugged all four of them) we broke for lunch and got ready for the Funshop that Spencer was most looking forward to: the r/c cars. Stopping only to watch a huge beetle on the front entrance of the hotel, we headed outside for over two hours of sun and cars and playing in the dirt. The last Funshop we hit that day was for playing dress-up, and neither Paxton or Everett were ready to leave when it was over. We checked out a local Mexican place for dinner (which was very very good) and the kids were excited to see some of their new friends there as well. That night was the first of two talent shows, and we were all exhausted when we headed up to bed at 10.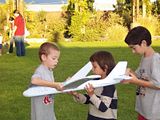 Friday was a whirlwind. There were more r/c cars and playing outside. Spencer and Everett made kites, Paxton made a homemade rain stick and a wallet out of duct tape. All three boys made collages. Everett and I got our faces painted. Mike, Paxton, and I all played chess in the chess Funshop. We went to an Art Trading Card (ATC) Funshop, which was something I'd never heard before, but was actually pretty cool. People made and traded decorated cards, ranging from simple to very elaborate. Both Spencer and Paxton came home with some really neat cards, and a desire to make more. We had lunch at a recommended local pizza place, and the boys enjoyed watching them toss the crust. Paxton decided at the last minute that he wanted to be in the talent show, and they squeezed him in. He picked 5 jokes, and practiced and practiced. He'd never done anything in front of a large crowd before and we didn't know what to expect. He went on at around 9:00, and spoke clearly and confidently and like he did it all the time. He told me later that he was a little bit nervous, but that it felt pretty cool hearing the people laugh and clap. The talent show in general was a blast. Everett slept through the whole thing, having konked out on Mike's lap 5 minutes after it started.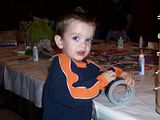 On Saturday morning, we enjoyed a big breakfast buffet at the hotel. We all went to the Wikki Stix Funshop, where we again met up with new friends. I listened to a discussion on living by principles instead of rules, and it was both interesting and inspiring. Paxton set up camp in the back of the main hall, where a guy was demonstrating his game, the Egg Game - Basically a stone egg, spun and balanced on a round board. Paxton played it for nearly 3 hours straight, while Mike, Spencer and Everett played water games and races outside, and I bounced back and forth. In the afternoon, I listened to a discussion on parenting myths. (Some examples: If you let children have unlimited access to tv or video games that's all they'll do... If you let children eat what they want, all they'll eat is candy....If you don't teach them math/grammar/spelling (fill in the blank) they won't get into college....If you don't punish children, they'll become hellions.) I'd prettied much debunked all the myths in my own heart, but it was re-affirming to hear new takes on the matter. Spencer and Paxton made and shot water rockets, and spent most of the rest of the afternoon running around in the courtyard with their friends, and playing with someone's Styrofoam plane. We bought raffle tickets, a bumper sticker, and our very own Egg Game to take home. That night, there was a Mexican banquet and dance. Thankfully, we arrived just in time to get a table with friends. The food was ok, but the conversation and laughter was better. We ducked out pretty early, and retired to the hall. The boys joined some other kids playing with boxes and cars in the hall until the wee hours of the night. We finally went up to our room around 11.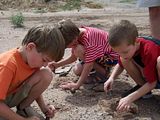 Sunday morning, we slept late, and resigned ourselves to the fact that it was time to pack up and go home. We're already trying to figure out if it's feasible to make next year's conference in North Carolina. Paxton and I both won something in the raffle... he won a window art kit, and I won a book by Sandra Dodd (which kept me happily occupied for most of the ride home) Spencer was disappointed that he didn't win anything, but felt better after a long nap in the car. The ride home went very quickly. We talked about the conference for awhile, and then moved on to talking about 9/11, the meaning of the word "politics", mud flaps, storm clouds, and hubcaps.
It was an incredible trip.
And now, some more pictures!
|
View
|
Add Favorite