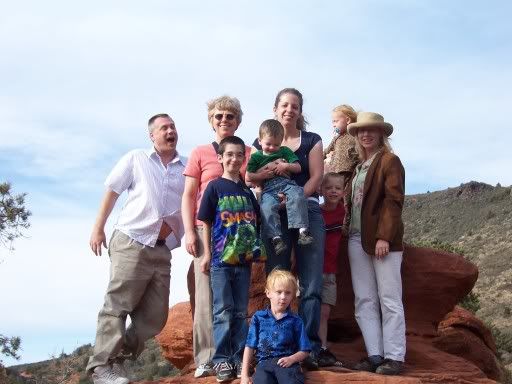 As of last week, we hadn't seen Maba and Pop, or rain, since we moved here in November. This week we got to see both! :O)

They arrived on Saturday afternoon, while we were all out playing frisbee in the road, and we were so excited to welcome them. We spent most of the day playing outside, chatting, and catching up. On Sunday we all went up to Camp Verde, and then on to Sedona. I've decided that Sedona is one of the most beautiful places in the country, at the very least on the west coast. We drove up a bumpy, winding trail, and did a little bit of hiking. The view was spectacular. From there we went to watch the sunrise at the airport, and enjoyed Barro's pizza at Sandi and Mitch's before heading home.

On Monday, Pop's cousin Clint came to stay with us as well, and the boys instantly fell in love. Spencer especially enjoyed him when it came time to make dinner. He served as Clint's sous chef, as they made a big happy mess and a big happy feast of pasta, homemade sauce, and salad. More reminiscing, stories and lots of laughter followed.

Tuesday was a trip to the zoo, which is always a good time, followed by another Clint-and- Spencer-cooked meal. The boys also shared some of their favorite things (mostly PS2 games and repeats of Dukes and AFV) with Maba and Pop, and we all went to bed tired and happy.

On Thursday we went to the Desert Botanical Gardens, which we'd never been to before but really enjoyed. They gave the kids a sheet and a pencil for a scavenger hunt, and they were very excited about it. Looking for animals tracks, nests, and holes in cactuses made the visit even more interesting than it would have been otherwise. After the gardens, we said goodbye to Clint - who was heading back home - and went to a train park. We weren't too sure if the boys were up for another stop, but they got a second wind in the car and had a

great

time at the park. We rode the little train, went through the train museum, and spent a long time hanging out on the grass, flying a kite, and enjoying the nice (if a bit chilly) day.

On Friday, Maba and Pop went back up to Camp Verde - where they ended up signing on the dotted line for a new house!! - and the rest of us took advantage of Mike's last day at home before starting his new job. I got up early and finally got my AZ driver's license. After I got home, we all headed out to the park to meet up with the homeschool group, but it was a VERY windy day and no one had shown up. The boys were a little bummed about that, but perked up when we got to our next destination - off-roading in the desert. We spent a few hours driving the trails, eating a picnic lunch, and scratching the heck out of Mike's truck. Paxton was nervous we were going to get lost, so we gave him one of the maps, and showed him where we were on the trail. He forgot all about being nervous once we started going through some of the true off-roading washes, rocks and ditches. Even Everett laughed hysterically as the branches whipped up against the windows. I kept my eye out for rattlesnakes, but the only wildlife we saw were some calves, followed by some some very large and angry looking bulls. We didn't stick around too long to watch them.

Saturday morning we woke up to RAIN, and lots of it. It was the coolest sound to wake up to. Paxton came into our room around 6 in the morning, wondering what the tapping sound on his window was. It's been a long time! We had a nice pancake breakfast, played some games of chess, Payday, and Fusion Crew, and tried to enjoy a final day that went way too quickly. We were all sad to see them off when it was time for them to go back to the airport, and will be counting the days till they come again.